We were thrilled to host this year's Financial Inclusion Conference in October, in which we held the very first Financial Inclusion Awards ceremony to acknowledge the great work being done in our city.
The conference is held to show appreciation for the work of organisations across Greater Manchester that are striving to improve the financial and mental wellbeing of the people of Manchester.
There were so many worthy entries to the awards, however there could be only one winner in each category. Here is a breakdown of how the awards were handed out on the day:
Best Innovative Project
This category recognises projects that have used new and innovative approaches to help encourage financial resilience amongst communities in Manchester. This can be a small local initiative or a project reaching the wider community.
And the winner is...
Community Grocer
Healthy Me Healthy Communities' Community Grocer Project is a volunteer-led redistribution scheme for surplus food and household items – and they do so much more. They've got three projects already up and running successfully in Rusholme, Ardwick and Miles Platting and four new projects on the way.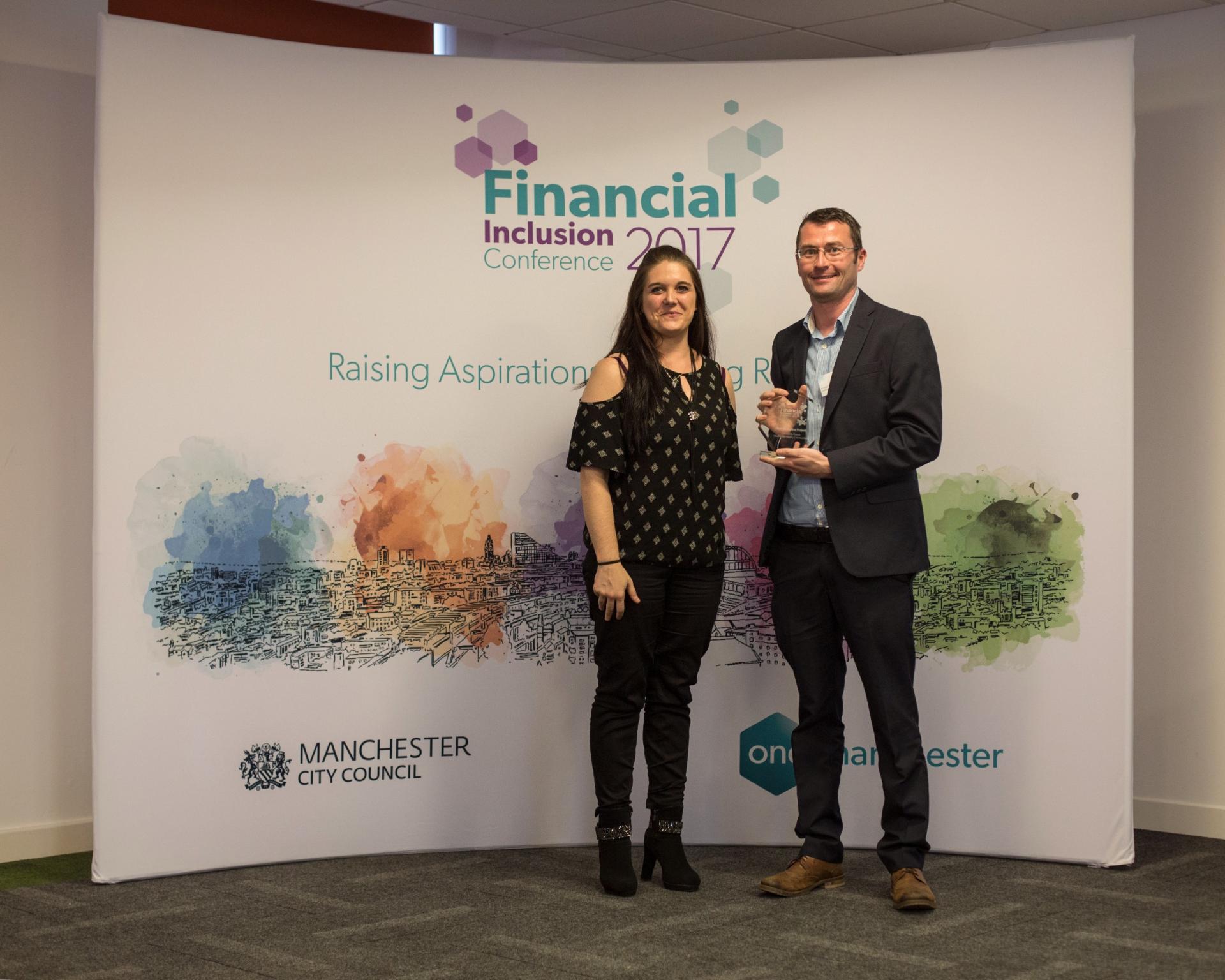 ​
Best Partnership Working
This category recognises successful partnerships which are helping to raise aspirations of people across Manchester. This can be a small local initiative or a wider project.
And the winner is...
YES Money Advice
The Money Advice surgery delivered by Northwards Housing at the YES centre in Newton Heath combines specialist employment support with debt and welfare rights advice, at a time when it is needed most. They offer free computer and internet access and are reaching hundreds of tenants, many of whom wouldn't otherwise receive money advice.
​
Individual Contribution
This award recognises an individual whose contribution has improved the life or lives of a person or community within Manchester by improving their financial resilience or by assisting them to reach their potential with regards to volunteering, training or returning to the workplace.
And the winner is...
Rob Willis
Rob Willis has played a pivotal role in the transformation of the former Fallowfield Library, which was on the brink of closure. It's now the thriving library and community hub now known as The Place at Platt Lane. Alongside some passionate and inspiring volunteers, Rob embodies all that is great about The Place at Platt Lane with his welcoming smile and customer-friendly attitude ensuring everyone receives a warm welcome. Whether people want to read a book, use the computer facilities, attend the knitting group, children's craft groups, computer clubs, money or rent advice services, or even sing with a local choir, The Place at Platt Lane has become a hive of activity helping to unite the community.
​
Would your organisation like to be involved next year? If you think you would have an interesting topic or research project and would like to be considered for a speaker slot, or if you have an informative and interactive idea for a workshop contact victoria.cordingley@onemanchester.co.uk